Chairman's Letter to Shareholders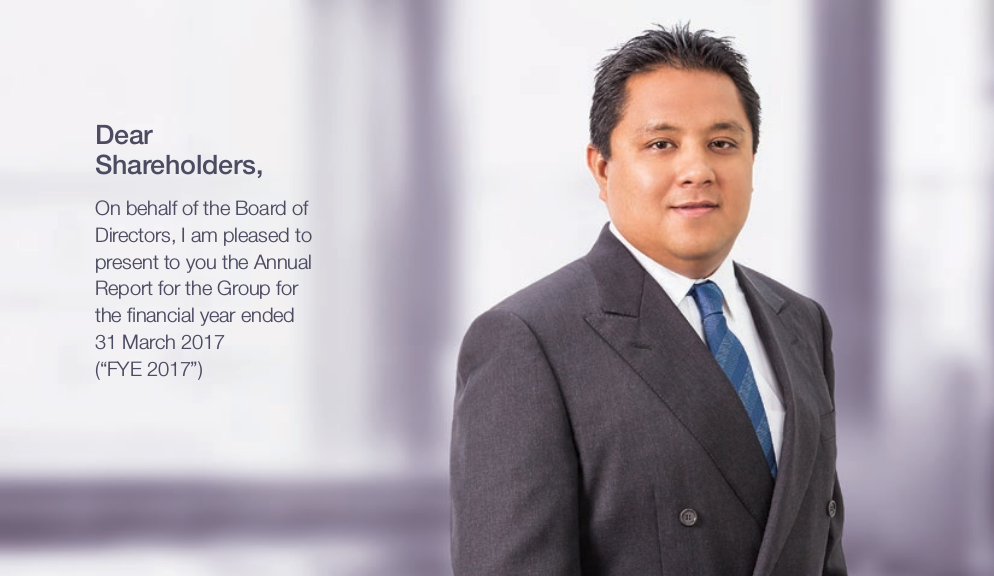 ECONOMIC REVIEW
The year 2016 saw subdued growth, shifting policies and heightened uncertainties, marking another challenging year for the global economy. It was also a year of unprecedented developments, with the outcome of the Brexit vote as well as the US presidential election expected to have implications well beyond 2017.
Despite these challenges, most ASEAN economies posted respectable growth, largely due to stabilising commodity and oil prices. Back home, lower revenue from energy exports tightened current account surplus and weighed on growth, but resilient domestic demand provided some support, resulting in a steady 4.2% Gross Domestic Product ("GDP") growth for 2016.
The past year also saw a shift in landscape for traditional financial institutions and intermediaries. The emergence of leaner and tech-savvy financial technology firms, or FinTechs, which provide alternative delivery channels for financial services, have become disruptors to financial institutions, challenging the way they traditionally operate and redefining customer experience towards financial services.
PERFORMANCE REVIEW
The Group ended FYE 2017 on a strong note despite the challenging macroeconomic environment. The Group's consumer financing segment performed commendably well, achieving a jump of 11.6% in loans growth for the full year, and remained the largest contributor to the Group's profit before tax ("PBT") of RM101.5 million, 87.3% higher than a year before, underpinned by a 37.5% increase in revenue as a result of a larger loan base and improved risk-based products.
Correspondingly, profit after tax ("PAT") soared 99.2%, from RM39.6 million to RM78.9 million in FYE 2017. This translated into higher earnings per share ("EPS") of 23.92 sen and net assets per share of RM1.31. Return on equity also improved from 7.7% to 17.6%.
Detailed updates on our respective business segments are covered under the Management Discussion and Analysis section.
CORPORATE DEVELOPMENT
On the corporate front, the Group is pleased to announce that the Sukuk Murabahah Asset-Backed Securitisation Programme of up to RM900.0 million in nominal value ("Sukuk Programme") established via Al Dzahab Assets Berhad ("ADA"), a trust-owned special purpose bankruptcy remote vehicle, has bagged three awards, namely "Best Murabahah Deal of the Year in Southeast Asia" by Alpha Southeast Asia Deal & Solution Awards 2016, "Commodity Murabahah Deal of the Year" by the Islamic Finance News Awards 2016 and "Best Securitisation Sukuk" by The Asset Triple A Islamic Finance Awards 2017 on 25 January 2017, 22 February 2017 and 11 July 2017 respectively.
ADA has since issued three separate tranches in June 2016, September 2016 and March 2017 respectively amounting to RM513.5 million. As at 30 June 2017, the Sukuk Programme has a remaining balance of RM386.5 million available for issue.
INVESTOR RELATIONS
The Group remains committed to transparency and continues to adopt good corporate governance practices across all business divisions. The Group's website (http://www.rce.com.my) provides the latest announcements on business activities, financial results and corporate developments.
Issues of concern can be directed to IR@rce.com.my, a dedicated point of contact for investors and stakeholders.
The Group also values dialogues with stakeholders, investors and analysts. Briefings with analysts and fund managers are conducted on a regular basis, while open discussions with institutional/prospective investors are held occasionally, ensuring the Group's latest operational and financial developments are communicated in a timely manner.
Since September 2016, Maybank Investment Bank Research provides coverage on the Group's financial performance.
CORPORATE SOCIAL RESPONSIBILITY
The Group's focus on delivering results is balanced by our commitment to the people whose lives we impact, directly or indirectly, namely our employees and the larger community in which we operate.
As an employer, the Group focuses on identifying individual talents and enhancing their skills for career advancements. Throughout the year, employees receive comprehensive on-the-job training along with formal training programmes focusing on leadership development. Besides such investments, other fun-filled activities are also made available to keep employees motivated and engaged.
As part of our corporate social responsibility, the Group continues to partner with the National Kidney Foundation to carry out health screening campaigns with the aim of raising health awareness towards a healthier Malaysia.
The Group also upholds the importance of good education and has sponsored 19 deserving students since 2011 through our partnership with Yayasan Azman Hashim, a non-profit charitable institution headed by Tan Sri Azman Hashim, with the aim of paying forward by assisting young ambitious scholars in their journey to become future leaders in our society.
DIVIDENDS
The Group had in the past 2 years paid a total of RM165.4 million in dividends to shareholders, including a special interim single-tier dividend of 10.5 sen per ordinary share on 8 October 2015.
As a Group, we continuously strive to strike a balance between channelling funds for the interests of our business requirements, our financial obligations as well as our shareholders. In view of the above, a final single-tier dividend of 3 sen per share is proposed for FYE 2017 with an estimated payout of RM10.1 million, to be approved by the shareholders at the 63rd Annual General Meeting.
LOOKING AHEAD
With the uncertainties surrounding global trade and growth, and the strong headwinds in the local market, 2017 is anticipated to be another challenging year for us.
Nonetheless, the Group remains focused as a niche market player and will continue to strive in bringing sustainable returns to our shareholders. Our entire organisation is also committed to adapting in this fast evolving environment and will ensure every effort will be taken to remain relevant.
Regardless of the macroeconomic uncertainties and disruptors, the Group is built upon our core values of integrity, versatility and relevance. Positive disruption is inevitable and will be the driver towards a new norm. The Group welcomes responsible innovation and continues to strategise to create a space for value adding in the digital economy.
We look forward to another profitable financial year for the Group.
ACKNOWLEDGMENTS
It is my privilege to welcome on board Datuk Mohamed Azmi bin Mahmood, who was appointed as a Director on 15 March 2017. Datuk Azmi brings with him 36 years of experience in the banking industry and is an excellent addition that will further strengthen the existing Board.
On behalf of the Board, I wish to express our appreciation and thanks to our shareholders for their continued support. My personal appreciation goes to the management team and staff for their commitment and effort in ensuring we consistently deliver amidst the industry's increasing demands.
I also wish to convey my gratitude to the regulatory authorities for their counsel as well as my fellow Board members for their valuable contributions and guidance.
Shahman Azman
Chairman
11 July 2017