Management Discussion and Analysis
Overview
RCE Capital Berhad ("RCE"), a subsidiary of Amcorp Group Berhad, is an established investment holding company in Malaysia. It was listed on the Second Board of Bursa Malaysia Securities Berhad on 20 September 1994 and subsequently transferred to the Main Board (now known as Main Market) on 23 August 2006.
The Group's core business is in the provision of consumer financing under RCE Marketing Sdn Bhd ("RCEM") and its group of companies ("RCEM Group"). RCEM enters into agreements with cooperatives and/or foundations to provide unsecured Islamic financing products to civil servants. Repayments are received in the form of monthly instalments via direct salary deductions through Biro Perkhidmatan Angkasa ("ANGKASA") and Accountant General's Department of Malaysia ("AG"). RCEM Group remains the main contributor to the Group's profitability.
RCE Factoring Sdn Bhd, a commercial financing business providing confirming and factoring services, was acquired on 4 January 2007 to complement the Group's existing business. For financial year ended ("FYE") 2017, its contribution to the Group's bottom line is marginal.
EXP Payment Sdn Bhd ("EXP"), a direct subsidiary of Strategi Interaksi Sdn Bhd, taps into the payroll collection segment of selected existing and potential borrowers. The venture into collections management provides an alternative to existing market players. EXP's collection service attends to deductions in payroll systems of government departments under the purview of AG. To date, the Group has invested more than RM4.7 million as capital expenditure into developing and making technological enhancements on our collection management system to continuously provide enhanced convenience and speed to our clients.
Strategy
The Group pursues growth organically by expanding its loan base primarily in the consumer financing segment, as financiers of cooperatives and foundations. Emphasis is placed on turnaround time ("TAT"), our key competitive advantage while quality loans remain the guiding principle for loans growth. We will continuously strive to enhance operational efficiencies through process simplification initiatives to stay relevant.
Summary of Group Financial Performance
We are pleased to present that for FYE 2017, the Group's revenue grew 37.5% to RM223.3 million from RM162.4 million in FYE 2016. This is achieved mainly from higher interest income derived from expansion of loan base in the consumer financing segment and fee income arising from improvement in business terms. The introduction of new product pricing with better matching of customers' risk profiles have also contributed to revenue growth despite economic uncertainties and competition from short term disruptive financiers.
The loan base for the Group expanded to RM1.5 billion, an increase of 11.6% as compared to a year ago supported by quality products. This translates to a double-digit growth for the third consecutive year as we gradually rebuild our portfolio since 2014.
Correspondingly, net borrowings increased from RM0.9 billion to RM1.1 billion, increasing the interest expense by 28.2% amidst improving overall cost of funds arising from more favourable financing terms.
A prudent approach on our loan classifications and recognition is adopted. For FYE 2017, gross impaired loans ratio improved to 7.2% from 7.8% while loan loss coverage remains stable at 172.2%. We maintain our stand in enforcing sound credit risk management practices and will continue to monitor the performance of our portfolio regularly to ensure asset quality. Better matching of risk profile of receivables will also ensure that we continue to receive sustainable revenue.
Summary of Group Financial Performance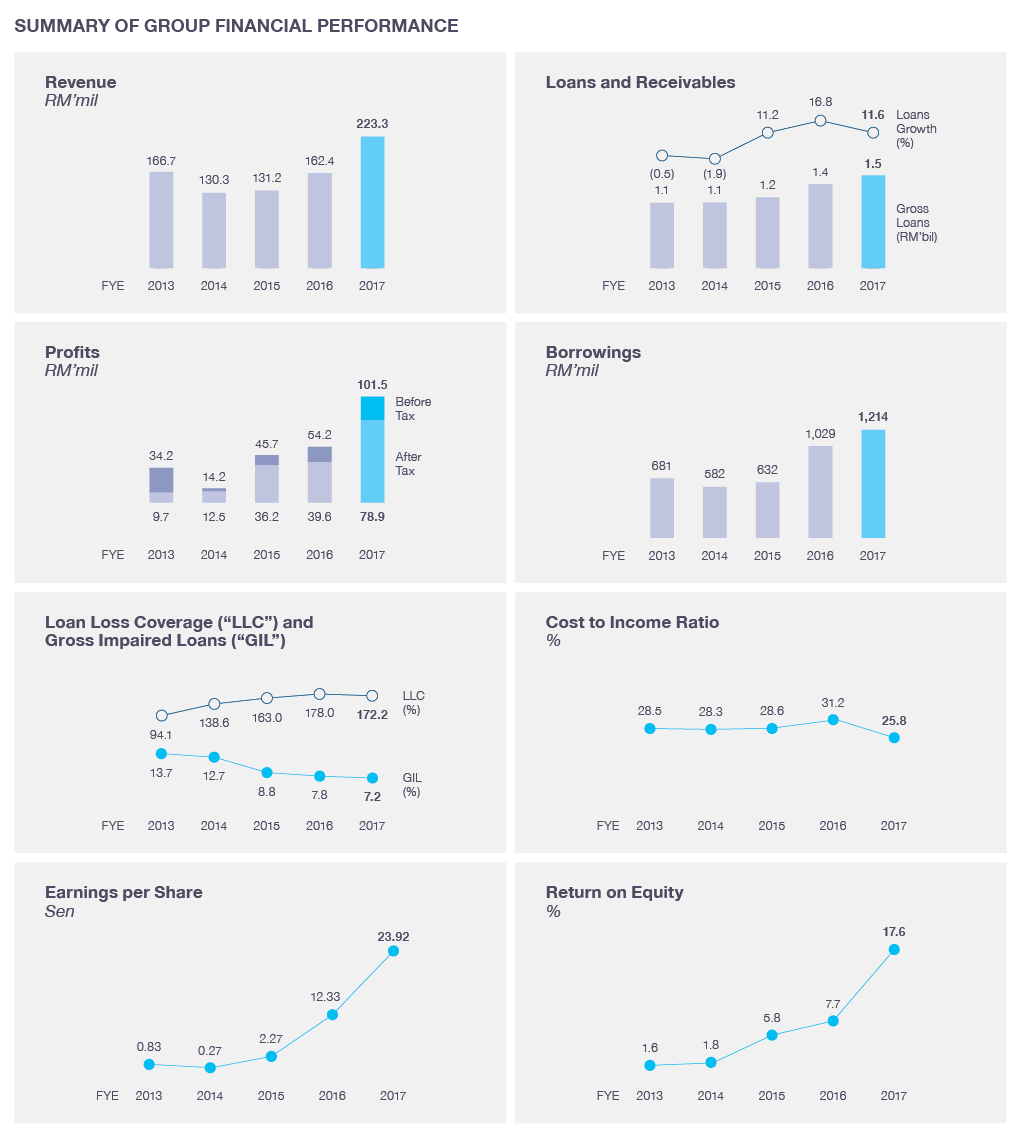 During the financial year, we fully redeemed the remaining RM35.0 million of fixed rate medium term notes ("MTN"), marking another successful milestone. Following the redemption, the entire RM420.0 million MTN Programme has been cancelled. The full settlement of the MTN Programme demonstrates the Group's ability to meet debt obligations, as it did in the past for the RM880.7 million Asset-Backed Securities Programme in FYE 2015 and RM95.0 million Fixed Rate Serial Bonds and Underwritten Commercial Papers Programme in FYE 2011.
In FYE 2017, the Sukuk Murabahah ("Sukuk") Asset-Backed Securitisation Programme of up to RM900.0 million ("Sukuk Programme") was established via Al Dzahab Assets Berhad ("ADA"), a special purpose vehicle, set up to acquire a pool of eligible loans and receivables originated by RCEM. ADA has to-date successfully issued three (3) tranches of Sukuk amounting to RM513.5 million, out of which RM83.5 million were subscribed by a subsidiary company, RCE Trading Sdn Bhd. The Sukuk Programme was awarded with "Best Murabahah Deal of the Year in Southeast Asia", "Commodity Murabahah Deal of the Year" and "Best Securitisation Sukuk" by Alpha Southeast Asia Deal & Solution Awards 2016, Islamic Finance News Awards 2016 and The Asset Triple A Islamic Finance Awards 2017 respectively. This Programme marks the Group's fourth foray into the debt market and is expected to finance the business growth of the Group.
Repayments of RM1.1 billion were also made on the Group's financing facilities, including back-to-back loan sale arrangement facilities granted by licensed financial institutions via a corporation which is well regarded for its secondary mortgage liquidity facility.
To provide better focus on our core business, we have disposed the remaining leasehold building with a net gain of RM0.7 million in FYE 2017. There was also a marginal drop in bad debt recoveries from RM5.5 million in FYE 2016 to RM5.0 million in the current financial year.
During the financial year, the Group granted a total of 16,629,000 share options under Employees' Share Scheme ("ESS") to eligible employees amounting to RM4.4 million to recognise, reward, retain and motivate them. This increased staff cost from RM15.2 million in FYE 2016 to RM20.8 million in FYE 2017. The Group's other expenses were well managed, recorded at RM44.9 million as compared to RM52.6 million in FYE 2016, mainly attributed to lower allowance for impairment and facility fees by RM3.8 million and RM3.1 million respectively.
The Group monitors cash flow actively to ensure all repayments and funding needs are met. We adopt prudent liquidity management by maintaining sufficient cash levels to meet working capital requirements, while striving to maintain available banking facilities at a reasonable level. Weekly cash flow forecasting is being performed, taking into consideration of the Group's debt financing plan, including maturity profile matching of the financial assets against its liabilities. Short term borrowings are also progressively converted to longer terms for better match against longer maturity receivables, gradually improving our net current liabilities' position. We are mindful in striking a balance between managing working capital requirements, servicing debt obligations and securing short term financing with more favourable financing rates as compared to longer term financing.
Through the initiatives and efforts mentioned above, our cost to income ratio improved to 25.8% in FYE 2017 from 31.2% a year ago leading to a commendable increase for profit before tax of RM101.5 million from RM54.2 million and profit after tax of RM78.9 million from RM39.6 million during the same period.
For FYE 2017, we are pleased to report favourable return on equity of 17.6% and earnings per share of 23.92 sen, following the improved profits and a capital repayment exercise completed on 6 May 2016.
Share Price Movement and Performance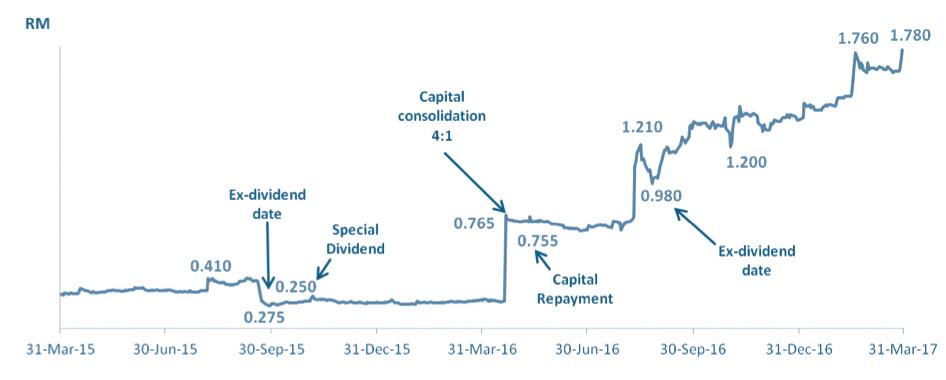 Prior to the share consolidation and capital repayment exercise, RCE's shares were traded between a year low of RM0.27 to RM0.29 per share.
Upon the completion of the share consolidation on 26 April 2016, RCE's shares opened at a price of RM0.77 per share.
The share price increased after the first quarter result announcement on 10 August 2016, ranging from RM0.78 to RM1.08 and has demonstrated resilience since.
RCE's share price closed at a high of RM1.78 on 31 March 2017 against net tangible asset per share of RM1.17.
Capital Management/Investments
The objective of the Group's capital management is to safeguard its entities to continue as going concerns while staying aligned to the business strategy and in compliance with the existing regulatory environment, preserving the interests of its stakeholders.
The Group on 26 April 2016 consolidated four (4) ordinary shares of RM0.025 each into one (1) ordinary share of RM0.10, resulting in an adjusted issued and paid-up capital of 340,952,486 ordinary shares from 1,363,809,945. Subsequently, the capital repayment of RM0.075 per share, totalling RM97.5 million, was completed on 6 May 2016 using internally generated funds. These initiatives are in line with the Group's capital management strategy to achieve a more efficient capital structure. Arising thereof, the gearing ratio is now more reflective of the business strategy while return on equity improved from 7.7% for FYE 2016 to 17.6% for FYE 2017.

Meanwhile, in relation to capital investments, a total RM4.9 million were invested mainly for information technology ("IT") system upgrades with another RM7.9 million capital commitment in progress as at 31 March 2017, to ensure that the Group stays updated with technological advancements.
Business Operations Review
Consumer Financing

The Group's consumer financing segment achieved healthy loans growth and profitability for FYE 2017. Internal processes were streamlined to achieve operational efficiencies while existing guidelines are continuously revisited to promote better operational efficiencies across the board.

For FYE 2017, the Group recorded RM221.8 million revenue, a 39.2% increase from a year ago (2016: RM159.3 million) arising from higher fee and interest income generated from a larger loan base. The 11.6% loans growth from RM1.4 billion in FYE 2016 to RM1.5 billion in FYE 2017 compares favourably. Against this backdrop, the consumer financing segment yielded 83.3% increase in net profit from RM42.6 million in FYE 2016 to RM78.1 million in FYE 2017.

The Group manages credit risk through stringent credit discipline supported by a comprehensive credit scoring model, which assesses an applicant's profile and evaluates his or her creditworthiness, and reviewed regularly to ensure they remain relevant and effective. Higher risk credit profiles are matched with higher pricing products, supported by the applicants' credit reports. A maximum exposure per customer is enforced to mitigate single customer risk, safeguarding the Group's bottom line. Portfolio performance is also regularly tracked to ensure asset quality remains at manageable level.

The Group's distribution channel is supported by sales teams who are governed under a Code of Conduct. To strengthen the distribution channel, performing sales teams are retained while new potential talents are recruited. The Group remains committed in building a competent workforce and we continuously identify suitable training programmes or courses to enhance the sales teams' competency and skills. Various marketing and promotional activities are also in place to support sales productivity.

We aim to continue delivering better customer experience, guided by our dedication to provide speed, ease of transaction and service excellence.

Looking ahead, this segment will remain the primary contributor to the Group's profitability in FYE 2018.

Investment Holding, Management Services and Others

During the financial year, this segment recorded RM1.5 million revenue as compared to RM3.1 million in the previous financial year. The decrease is in line with the Group's shift in focus towards streamlining its commercial financing business through strengthening its efforts in managing higher risk loans and non-performing loans.

This segment returned to profitability with a net profit of RM0.8 million, up from a previous loss position of RM3.0 million mainly due to higher loan recoveries.
Our People
Talent management has been a central theme for FYE 2017, without which a company cannot grow and prosper. As at 31 March 2017, the Group has a workforce of 169 employees.
A series of leadership programmes were rolled out for all employees so as to re-emphasise the core values the Group holds dearly. In addition, a coaching programme was rolled out to cultivate two-way communication among employees, further encouraging active engagement across departments and igniting meaningful discussions.
Further investments were also made to promote a healthier and safer workplace where a certified ergonomist trainer was engaged to educate and create awareness among employees on the importance of maintaining proper posture and sitting positions for better health and productivity.
Technical trainings ranging from regulatory changes to accounting implications were also made available to keep employees abreast on the latest developments in the industry as well as to ensure our employees are fully equipped with the knowledge and skills to continue contributing effectively.
Here at RCE, we believe in remuneration based on performance and skills. During the financial year, deserving employees were invited to participate in the ESS in recognition of their commitment, dedication and contribution to the commendable financial performance of the Group.
We continue to recognise our human assets and will continue to invest and develop core talents.
Dividend
In the last 2 financial years, a sum of RM165.4 million has been paid as dividends of which RM134.7 million was a one-off special interim single-tier dividend of 10.5 sen per ordinary share. Whilst we understand shareholders' expectations to have a consistent dividend, a balance must be struck on the use of surplus funds to cater for business growth and to meet our financial obligations. Given the significant payout to shareholders in recent years, there is a need to channel funds and shift the focus back to the business and to retain sufficient resources for working capital needs. With this in mind, a final dividend of 3 sen per share for a total estimated payout of RM10.1 million is proposed, to be approved by shareholders at the 63rd Annual General Meeting.
Outlook for 2017/FYE 2018
The macro outlook is expected to remain stable despite headwinds on the global front. Amidst gradual recovery in global growth and commodity prices, Bank Negara Malaysia ("BNM") expects the local economy to remain steady and grow between 4.3% to 4.8% for 2017. Domestic demand will continue to be the engine for growth underpinned by faster growth in public and private investments while the weak ringgit exerts upward pressure on headline inflation which BNM expects to hold between 3.0% to 4.0% as compared to 2.1% in 2016.
Despite a lower household debt-to-GDP ratio of 88.4% in 2016 (2015: 89.1%), BNM anticipates it to remain high for 2017. Meanwhile, Maybank Investment Bank Research expects industry loans growth to hover around 4.7%. That said, the Group supports BNM's initiatives in promoting sound and sustainable household debt repayment capabilities amongst borrowers and strives to comply with policies and regulations.
The new Malaysian Financial Reporting Standards 9 taking effect in FYE 2019 will require the Group to rework its accounting policies to ensure compliance. The forward looking expected credit loss model is anticipated to increase loan impairments which may unfavourably impact the Group's profitability. Presently, the Group is in the midst of model development and finalisation of user requirements for system readiness before the new financial year beginning 1 April 2018 takes place.
It is no longer sufficient to compete on products and services alone; how services are delivered are just as important as what services are delivered. Customer experience will be the key success factor to winning, growing and retaining customers in the ultra-competitive environment. In this respect, financial institutions face significant competition not only from each other, but also from financial technology firms, or FinTechs. FinTechs offer existing financial services at lower costs, and new tech-driven solutions that are in line with changing consumer trends, disrupting the financial value chain. In light of this, BNM introduced the FinTech Regulatory Sandbox Framework in October 2016 to promote innovation as well as to enhance its regulatory approach in facilitating the development and adoption of innovative FinTech solutions.
While we acknowledge the importance of quality growth as a business entity, we also recognise that staying relevant is equally crucial. Therefore, in an era of increased digitalisation, we will continue to embrace technology to further simplify the way we operate as we endeavour to provide customers with enhanced experience while staying true to our promise in delivering speed and convenience.