Financial Highlights
| | | | | |
| --- | --- | --- | --- | --- |
| OPERATING RESULTS RM'000 | 2017 | 2016 | 2015 | 2014 |
| Revenue | 2,076,290 | 1,788,844 | 1,916,859 | 1,880,707 |
| EBITDA | 202,420 | 188,309 | 178,133 | 183,288 |
| Profit before tax | 174,195 | 153,677 | 140,750 | 139,324 |
| Profit after tax and minority interest | 137,830 | 123,519 | 127,164 | 112,804 |
| Net earning per share (cents) | 10.66 | 9.55 | 9.84 | 8.72 |
| | | | | |
| --- | --- | --- | --- | --- |
| KEY BALANCE SHEET INFORMATION RM'000 | 2017 | 2016 | 2015 | 2014 |
| Property, plant and equipment | 149,844 | 138,381 | 161,783 | 175,820 |
| Cash and bank and placement | 487,240 | 465,768 | 468,477 | 291,617 |
| Other assets | 1,250,107 | 993,146 | 767,178 | 856,761 |
| Total assets | 1,887,191 | 1,597,295 | 1,397,438 | 1,324,198 |
| Bank borrowing | 134,659 | 136,515 | 136,841 | 134,789 |
| Other liabilities | 1,197,687 | 966,998 | 808,919 | 809,197 |
| Total liabilities | 1,332,346 | 1,103,513 | 945,760 | 943,986 |
| Total equity | 554,845 | 493,782 | 451,678 | 380,212 |
SUNCON Investor Relations App
Download our Investor Relations app to access all of our latest news, updates and financial information on your iPad, iPhone or Android devices.
Download our IR App for iPad and iPhone
Download our IR App for Android devices
Stock Quote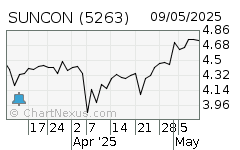 RM

2.020

-0.020

-1.0 %
Email Alerts
Subscribe to our email alerts to receive our latest announcements:





To unsubscribe from Email Alerts service from Sunway Construction Berhad, click here.
Visitors
*since 5
th
April 2017.