Corporate Profile
We are Malaysia's leading jewellery company with a strong presence across the value chain, from design to manufacture and retailing. The Company was founded in 1976 when 22-year-old Choon Yee Seiong opened a modest jewellery store in Petaling Jaya. Over the past 44 years we have established a solid brand reputation and currently operate through 93 outlets across the nation. We have a range of over 150,000 designs in our product portfolio that includes gold, platinum, silver and studded jewellery
The manufacturing facility was established in Shah Alam in 2001 to produce mass produced designs and bespoke jewellery exclusively for Poh Kong. Its successful listing on Bursa Malaysia in 2004 saw Poh Kong expand into an investment holding and management services company, with manufacturing and retailing businesses operating through its subsidiaries.
PKHB's corporate structure is organised along six key business activities: retail, manufacturing, wholesale and distribution, property investment, overseas investment, and franchising.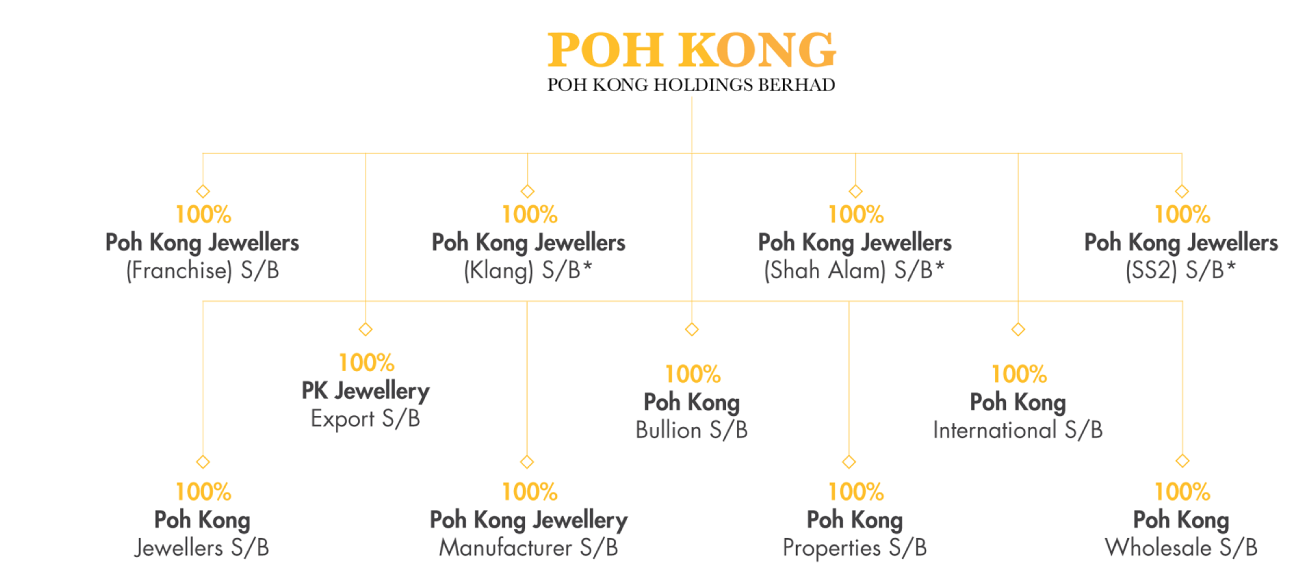 The Poh Kong Brands
The Company's in-house gold jewellery brands offer beautiful contemporary designs as well as specially themed pieces. These include Tranz, crafted for the contemporary urban clientele, Happy Love that blends romantic themes and rich oriental wedding traditions, the Art of Auspicious masterpieces embodying fengshui elements and Anggun which features modern motifs reflecting Malaysia's natural environment, art and culture.
Poh Kong's elegant diamond brands have stood the test of time. The exclusive Hemera brand offers the most brilliant 101 cut diamond for life's big moments. Luxury meets affordability in Poh Kong's D'first Diamond brand created to meet the aspirations of Malaysians.
The Company is also licensed to distribute several international jewellery brands. In its gallery are the Disney Collection from the US and the Luca Carati and Moraglione 1922 fine jewellery collections from Italy.
| | | | |
| --- | --- | --- | --- |
| RM 0.86 | | -0.005 | -0.6 % |